Foot Problems:
Flat Feet Treatment
Flat feet are a common condition of the foot structure. In infants and toddlers, prior to walking, the longitudinal arch is not developed and flat feet are normal. Most feet are flexible and an arch appears when children begin standing on their toes. The arch continues to develop throughout childhood and by adulthood most people have developed normal arches.
Flat feet are generally associated with excessive pronation, a leaning inward of the ankle bones toward the center line. Shoes of children who pronate, when placed side by side, will lean toward each other (after they have been worn long enough for the foot position to remodel their shape).
Many people with flat feet do not experience pain or other problems. When pain in the foot, ankle, or lower leg does occur – especially in children -the feet should be evaluated.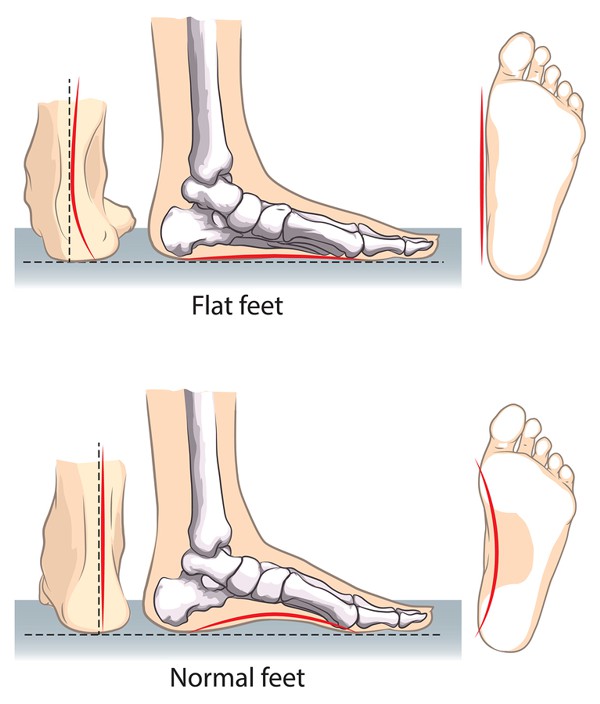 Heredity
Arthritis
Trauma
Musculoskeletal disorders
What can your Podiatrist do for you?
Perform a physical examination and gait analysis
Request X-rays, bone scans, CT, MRI or other imaging studies
Recommend shoe changes, over-the-counter arch supports or prescribe custom orthotics
Perform surgery as indicated
Book an Appointment
Your care is our first priority. Our team offers expert podiatric care in a warm and friendly environment to make you feel relaxed and comfortable.